The student group "Tamakomachi"
contributes to realize
a community that everyone can be proud of
through the proactive challenge of students.
We connect people to the town,
and make everyday life in Yaho
a little more special.
As ONE TEAM,
we will continue to aim for sustainable development.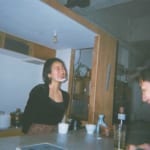 First Representative Sakane
I experienced internship in Amami Oshima and Unnan City, Shimane. Then realized the richness of a life that takes time and effort, and decided to establish a guesthouse.
Second Representative Okimai
Through the management of Tamakomachi,
I came to love Kunitachi and Yaho as much as my hometown.
As of 2021, we have over 20 active students from Hitotsubashi University and various other universities.
We're looking for members, if you are at all interested in us, let's talk!
Please contact us through Tamakomachi official Twitter
Representative Ukechan
From: Osaka, Malaysia
I joined Tamakomachi because it seems interesting to run Machiyado.
I'd like to run our guesthouse engage with the local people in the future!
Right-hand man Gucci
From: Tokyo
Memories of KOKOTAMAYA: The most memorable event was the BBQ event where I can interact with many different people.
I'd like to actively expand exchanges with guests and local people in the future.
PR Sakamoto
From: Hiroshima
Reason for joining: destiny
Attraction: possible to get involved with many people.
Goal: increase our numbers and have a blast!
GX-team Su-ha
From: Tokyo
Reason for joining: destiny
Attraction: all people including members, guests, and local people have warm heart.
Goal: provide an accomodation experience that can make guests want to come back again.
Not only are we running a guesthouse, also working together with the neighboring communities of Kunitachi and Yaho.
If your organization would like to work as a partner, please contact us.
Cooperation with NPO Kunitachi Noennokai
Guest House KOKOTAMAYA is run by the student group Tamakomachi in cooporation with the NPO Kunitachi Noennokai. Students mainly plan and manage Guest House KOKOTAMAYA but we also get help of NPOs in many ways!
Joint project with the student proup Pro-K
Pro-K is a student group which has connection with the shopping street in Yaho. We introduce and sell products from Pro-K's stores in Guest House KOKOTAMAYA, and we will continue to cooperate with them to provide a more guesthouse-like experience.